Shopping Cart
Your Cart is Empty
There was an error with PayPal
Click here to try again
Thank you for your business!
You should be receiving an order confirmation from Paypal shortly.
Exit Shopping Cart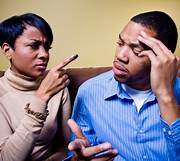 There is no beauty but in relationships.
Nothing cut off by itself is beautiful. Never can things in destructive relationships be beautiful. All beauty is in the creative purpose of our relationships. All ugliness is in the destructive aims of the destroyer's arrangements.
Ayi Kwei Armah in "Two Thousand Seasons Rooted in Slavery", said it was the deliberate plan to dislocate black men and black women from one another and this has been expressed in many ways. The inability of black men and black women to protect one another during enslavement produced feelings of impotence and helplessness on both sides. Men saw their women being beaten and raped by their slave masters and women saw their men being whipped and made to be submissive, made to be less of the man they previously was, also the controlled sexual access that black men and black women had on the plantations, while the slave master had free and anytime access.
Added to this was their inability to protect their children from being slaughtered, beaten and sold has wounded the spirit of the black men and women. Guilt, blame, disloyalty, distrust, shame along with many other negative emotions put a wedge between them. However, there is liberation from this - there must be emancipation from mental slavery and racism.
I have interviewed many persons and I am seeing that their is a profound distrust, even hatred between black men and black women. it has been nursed along not only by racism, but also by an almost deliberate ignorance on the part of black men and women about the true spiritual essence and beauty in having good relationships between themselves.
It is very important that black men are taught and know the importance of learning to respect black females and likewise black females has to be taught and know the importance of respecting the black males. We need now in the black society Elder Councils formed of elder men and women of wisdom who can teach the young black males and females about their sexuality, and the importance of forming scared bonds between themselves that must be preserved.
Young males must be taught how to become a man, and females must be taught the role and functions of being a woman. This Elder Council will play a stabilizing role in the lives of black young males and females and act like an extended family that they can rely on.
We need to help our children and bring them back from the erroneous path that they are taking which can only lead to their destruction. THIS IS THE TIME FOR RESTORATION - NOW, NOW, NOW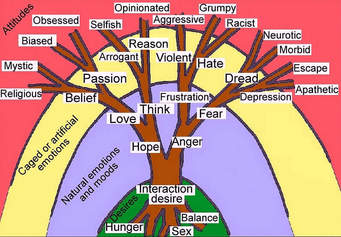 Many men and women today are caught up in the roller coaster of desires and emotions which they are bent to have satisfied at any cost, and sometimes the cost is very high.
Let me begin by saying quite clearly, that YOU are not your desires, nor are YOU your emotions. But, YOU are THE SPIRIT of LIFE of GOD, and that your spirit is the MASTER over all your desires and emotions. You are a SPIRTUAL BEING having a human experience. Yes, you are the MASTER; however what you have done is simply chosen in your ignorance and confusion to make your emotions and desires the MASTER over your SPIRIT.
What is desire?
Desire is a sense of longing or hoping for a person, object, or outcome to happen. If the desire is to take a definite direction, it is absolutely necessary that the idea of the object, from which the pleasure is to be expected, should also be present and it should control your activity. Desires are birthed out of emotions. Desires are wantings
.
What is emotion?
Emotions are specific and intense psychological and physical reactions to a particular event. Emotions seem to rule our lives every day. We oftentimes make decisions based on whether we are happy, angry, sad, bored, or frustrated. We also choose activities and hobbies based on the emotions they incite in us. All emotions have the following parts: subjective feelings, physiological (body) responses, and expressive behavior. So you create your reality by the emotions that you feel.
In both state of being we have an underline aspect that runs through the core of them both, and that is the fact that both emotions and desires depend or strives on some external stimuli for its existence. It is control of us, from some external circumstances.
Look around today in the world and you will see that the television, magazines, movies and the advertising medias are all helping to create your desires for you, by influencing you and molding you with false images of what is beauty, and all these images keeps directing your attention as to "how" you should look physically, you should dress, you should be attractive and appealing. As these images floods your emotions you begin to look at yourself critically and then the FEAR of being too unattractive, unworthy, unpopular or rejected by others, who you allow to judge you as a human being, begins to creep up on you. You become bound by this FEAR and then this fear creates in you the desire TO BE WORTHY of LIFE, so you get busy trying to fit this false mold that has been created for you and therefore do not spend time on trying to develop your creative spiritual potential within.
How dare you feel that you are UNWORTHY as you compare yourself against and believe in the false images that has been portrayed. PLEASE REMEMBER THIS TRUTH! YOU ARE GOD'S TEMPLE!, fearfully and wonderfully made in HIS OWN IMAGE AND LIKENESS! Do not let your desires or your emotions take control of you, especially when they are negative or false. YOU ARE MASTER! You are in control. Do not become OBSESSIVE PRE-OCCUPIED with what the world through the media, advertisements, movies are expecting you to be, but instead begin to ignite your CREATIVE POTENTIAL WITHIN.
Your CREATIVE POTENTIAL WITHIN, is at all this time screaming at you for recognition to be released from the self imposed bondage that you have placed on it as you seek to fulfill your desires that you have created through your emotions; to look sexy, have sex, love, feel worthy, feel appreciated and such like.
It is so important to remember that ignorance of the truth is only acceptable for a time. God within you is ever giving you many opportunities to turn your ignorance into THE WISDOM OF KNOWLEDGE OF TRUTH. That is why you feel this prompting within you, but you don't know what it is. You somehow know that there is more to you than you are experiencing right now, but you don't know what to do about it. The creative potential within you is prompting you; it is stirring within you, needing to be satisfied, so you are mistakenly trying to satisfy it by creating this false illusion that maybe if you try to emulate these images that the world shows you as good, you will find satisfaction and feel fulfilled. But the fact of the matter is at the end of this entire charade, you are still unfulfilled.
My friends, your CREATIVE POTENTIAL WITHIN begins to unfold as you turn within and acknowledge the trueness of who you are, get to KNOW GOD, get to KNOW SELF. When you truly understand and recognize the truth of your being, your creative spiritual unfolding will no longer be frustrated or limited. You will blossom out into being who you truly are.
No false images, need to look for love in all the wrong places, over indulgence is sexual acts, alcoholism, drugs, excessive make-up, painfully sculpturing your body to look like the fabulous or be accepted by society or any other such things, should control you. As you begin the unfolding and adventure of discovering YOUR creative spiritual potential, you will be so surprised, because at this point you will discover that all the supposing needs for the above are no longer appealing to you. You will be detached and no longer have interest in it. When this happens you are truly the MASTER, you are in control of your desires and your emotions.
What a wonderful position to be in: YOU ARE THE MASTER, of you.
Minister Marilyn Mars
November 1, 2016




As we look around in our world today there is evidence of change all around us. The season changes, the month changes, the year changes, the day changes and such like. Every thing has it time and every goes through a season of change, even our attitudes and our bodies. The entire creation knows that change is inevitable.

 

People generally are very resistant to change because there is an element of uncertainty as to how change may affect our lives, especially if we are comfortable in the position of life that we are presently. These people see change as an interference or disturbance in their life even if in reality it may bring about some benefit to them. They may be content to remain in the same old condition because and forgo the benefit because of fear of change.

 

Creation itself teaches us that change is a necessary requirement for progress and regeneration. If there is no change there is stagnation, no growth, no development in our life. Even in our mind we are changing our thoughts daily about many issues because our old thoughts may not be beneficial to the present age or system of doing things. If we do not change our thinking we will not be an asset or be able to positively contribute to society, our family and more so to our own individual development.

 

We must however be able to recognize the time and the season to effect change in our life. A good clue is when we realize that there is stagnation in our present situation or condition, this is an indication that change is necessary. The kind of change we need to make will be determine according to our circumstances. The type of change needed must be well sort out, and though out before made because change must be beneficial, it must be rewarding, it must bring about progress.

 

This may be your season to change, change your attitude, thinking, friends, places you visit, job, relationship, living environment, eating habits, the way you dress, the way you present yourself, your outlook of life, your hairstyle or whatever it is that is no longer benefiting you.

 

Stop the fear and make the change, you deserve it. Remember there is a time and a season for everything, even creation knows this well enough, if it did not I shudder to think how chaotic the world would have been.










0

/