| | |
| --- | --- |
| Posted on April 3, 2017 at 7:25 PM | |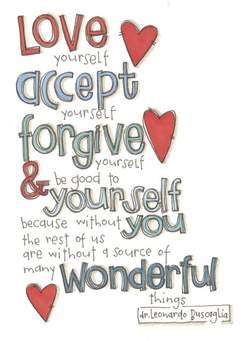 Before you can love other selves adequately, you've got to love your own self properly. A lot of people don't love themselves.
And you know what loving yourself also means? It means that you've got to accept yourself. (That's right) So many people are busy trying to be somebody else and not being themselves in true fullness. If you don't know, let me tell you, God gave all of us something significant. And we must pray every day, asking God to help us to accept ourselves. (Yeah) That means everything about ourselves: how we look, the color of our skin, shape, size, status, only in acceptance can we find strength and courage to make a positive more forward.
Get up and acknowledge; "I am somebody". (Yes) I have a rich, noble, and proud heritage and a bright future. However exploited and however painful my history (past) may have seem to be, I'm beautiful." (Yes) This is what we've got to say. We've got to accept ourselves. And we must pray, "Lord, Help me to accept myself every day; help me to accept my tools (my attributes), my gifts, my talents", For if my creator has given it to me, it must be for some divine purpose, because everything He made was good, "I was fearfully and wonderfully made".(Shout it out) "Lord, I ain't much, but I is all I got." (Laugh) So use what you got and multiply, multiply, multiply. Out of little cometh plenty.
And after accepting ourselves and our tools, we must discover what we are called to do with these tools, what has God called us to do, what is our life's work or purpose. And once we discover it we should set out to do it with all of the strength and all of the power that we have in our systems, do it so well that neither the living nor the unborn could do it any better.
One Love.
Marilyn Mars Ministries of Restoration
Categories: Common Interests